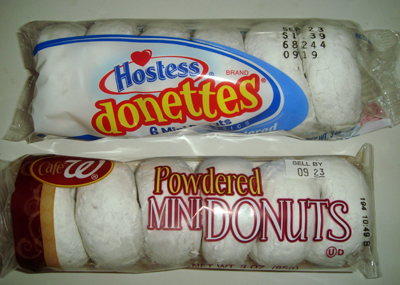 Mmmm, donuuuuuts. There's nothing like a good fresh donut. These aren't them but at least resemble the spirit of a donut and if this is all you have available and you're in a donut state of mind, you may find yourself giving one of these a shot.
Hostess: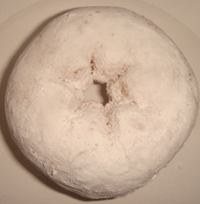 I don't really have a history with these but Ethan said he used to eat them when he was in High School and liked them. We were both surprised that these didn't really taste like anything. The only thing "donuty" about these is the shape. The powdered sugar doesn't even taste like sugar and the dough is just flavorless, dry cake.
Cafe W: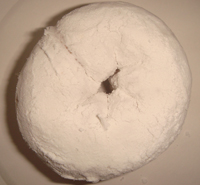 Walgreen's version actually had some taste to it. The powdered sugar tasted sweet and the cake had a slight lemon flavor that complimented the sugar. These donuts were also not quite as dry as hostess and we found ourselves enjoying these more.
Wrap up:
We have to give it to Cafe W for making a donut that tastes like something, not really like a fresh donut but at least it's something. Hostess just seemed void of anything and was all about texture. Dry, powdery texture. It's interesting that so far Cafe W has been up to par or better than Hostess. I'd be interesting in trying more of Cafe W's products in the future.


 Loading ...